Absence calendar, clock-in and clock-out, periodic reports
Human resource management
hrm
Bitrix24 has several human resource management features (or better, human capital, or HC). Absence calendar, clock-in and clock-out, periodic reports, recording of times on assigned tasks, flow management of absences and permits, fixed or flexible hours, shifts, make Bitrix24 a perfect platform for the smart worker, the everything (obviously) inserted in the context of an "all-in-one" solution perfectly integrated, and "connectable" with the outside.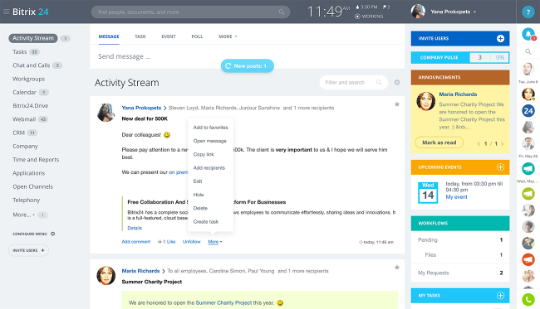 a fundamental activity for any needs
Human Resource Management is a fundamental activity in any organization, today increasingly important in order to support the competitive advantage. 
The way of doing business today has changed considerably, personnel management is no longer considered a cost, but is increasingly an integral part of the corporate organizational structure.
In recent years, the management of human resources has undergone major transformations, adapting to an increasingly competitive and fast market.
This allows us to understand how important the role of human resources is in determining business success, an added value that allows us to improve productivity.

Contact us
Fill out the form and you will be contacted as soon as possible by the NTC team.
We can offer a full demo and a preliminary analysis of your needs, for free.

Your Bitrix24 Gold Partner
Locations & Contacts
MAIN OFFICES:
Italy (Milano, Roma) :
+39 0294750759
Estonia (Tallinn):
+372 6683086
France (Dijon):
+33 (0)7 68830325
Romania (Brasov):
+40 (31) 6301051
AGENCIES:
Spain (Barcelona):+34
932 711675
Switzerland (Bellinzona):+41
(91) 2280370
Slovenja (Ljubljana):+386
(1) 6003185
Greece (Athens):+30
21 1198 2778
Malta :+356
27761776
Cyprus (Nicosia):+357
22 000632
Israel (Jerusalem):+972
3 5308815