ADOPT A "USER ORIENTED" APPROACH IN BUILDING PROCEDURES
Workflow management system
Also known as WorkFlow Management System, it consists of a graphic "WISIWYG" designer tool, which allows to adopt a "user oriented" approach in the construction of procedures within the platform, and an "engine" that performs them both on request ( "sequential" mode) and autonomously in the face of satisfied events and / or variables ("event driven" mode). A powerful tool that, together with all the rest, allows to realize the so-called RPA, Robotic Process Automation.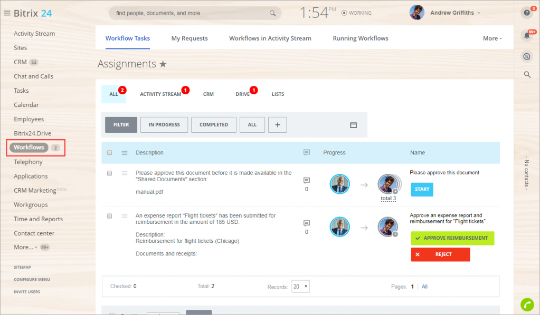 advantages
why to digitalize processes with wfms?
A workflow management system adapts flexibly to every corporate and business process regardless of the sector to which it belongs. It also adapts to changes and evolutions of the organization over time.
Implementing it in the company is advantageous because:
Automate repetitive tasks
Improve the transparency of information
Reduces process management times
It supports the optimization of processes
Contact us
Fill out the form and you will be contacted as soon as possible by the NTC team.
We can offer a full demo and a preliminary analysis of your needs, for free.

Your Bitrix24 Gold Partner
Locations & Contacts
MAIN OFFICES:
Italy (Milano, Roma) :
+39 0294750759
Estonia (Tallinn):
+372 6683086
France (Dijon):
+33 (0)7 68830325
Romania (Brasov):
+40 (31) 6301051
AGENCIES:
Spain (Barcelona):+34
932 711675
Switzerland (Bellinzona):+41
(91) 2280370
Slovenja (Ljubljana):+386
(1) 6003185
Greece (Athens):+30
21 1198 2778
Malta :+356
27761776
Cyprus (Nicosia):+357
22 000632
Israel (Jerusalem):+972
3 5308815